The Latest Kaminario News

Product and Solution Information, Press Releases, Announcements
Building FinTech Success with Storage as a Service
Posted: Mon Jul 08, 2019 08:53:02 AM

The FinTech marketplace continues to grow in scope and scale. More and more consumers, increasingly familiar and comfortable with new technology, are adopting some form of FinTech service: from mobile payments to digital banking. So what does this mean for the way that financial service organizations manage their data? In this blog, we will explore the importance of data to the success of the FinTech enterprise and how Storage as a Service (STaaS) is emerging as a valuable strategy for helping these organizations attract customers, scale effectively, and contain costs.
The Rise of FinTech
FinTech opportunities are real. Earlier this year, the Global FinTech Adoption Index surveyed 27,000 consumers in 27 markets and found that:
64% had adopted some form of FinTech service

96% of global consumers are aware of at least one money transfer and payment FinTech service

75% global consumers use a money transfer and payments FinTech service

48% global consumers use an insurance FinTech service
These shifts are irreversible and will grow in significance. According to a survey of more than 2000 adults done by Marqeta, millennials (18-34 years old) are increasingly open to new financial service providers. A full 49% said they would consider switching their business to a digital -only bank. Meanwhile, only 17% of Americans and 14% of U.K. citizens said they could never imagine ever wanting to change banks.
The Challenges FinTech Organizations Face
However, the challenges to FinTech success are also real. Consumers, in general, have come to expect fast, more personalized services. For those who can deliver, the rewards can be substantial. According to a recent Boston Consulting Group report, a 2017 REBEX consumer survey found that personalization is key to many important financial services decisions.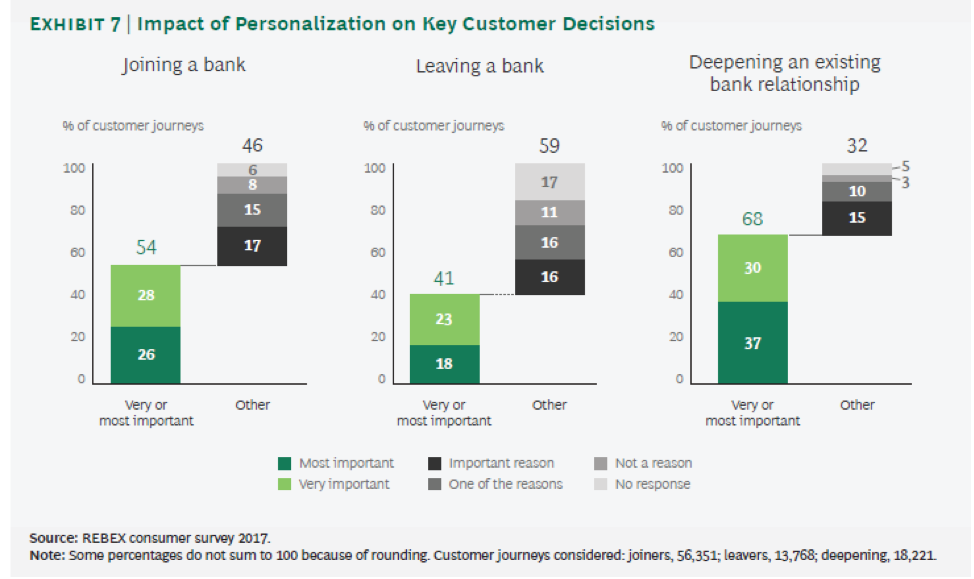 Source: Global Retail Banking 2018 The Power of Personalization, The Boston Consulting Group, 2018
Attracting new financial services customers – as well as retaining existing customers – requires high performance personalization. This means that a financial organization's data storage strategy must be elastic enough to process the growing body of unstructured data required for business analytics as well as the critical transactional workloads.
As the organization scales and adds more personalized services, business necessities require that operational costs continue to be contained. Ideally reduced on a per unit basis. Cloud storage has become a typical response, but many businesses experience unexpected expenses when scaling applications that rely on cloud. Over time, cloud storage can become more cost-prohibitive. Application workloads can trigger surcharges for high levels of storage performance, or they incur additional internal costs for network egress traffic.
This can also make it difficult to predict future cloud storage costs. Containing the costs of cloud storage can be a challenge when confronted with a growing body of mixed transactional and unstructured data workloads critical for business analytics.
Adopting Storage as a Service
More and more organizations are considering Storage as a Service (STaaS). STaaS, as the name implies, is composable, consumption-based storage. It allows FinTech organizations to build dedicated storage infrastructure with the agility and flexibility of storage in the public cloud. Companies are able to better predict and contain costs by quickly and closely matching storage capacity with changing business demands. For example, storage can be scaled when applications demand and organizatons only pay for what they actually use.
Changing customer expectations and increasing competition in the financial services marketplace requires companies to deliver better application performance under data-intensive scenarios. Understanding the business relationship of cost-effective storage to competitive differentiation and profitable growth is key to success. The right storage strategy will increasingly distinguish FinTech winners from losers.